Join the staff of Teton Therapy this April 15th for our second annual OT5k Run. Celebrating the contributions of Occupational Therapists in our community, this year's race proceeds will benefit Eagles Hope Transitions of Riverton.
The race will begin at Teton Therapy's Riverton clinic, 1406 W Main Street at 10:00 am on Saturday, April 15th. Just like last year's event, there will be prizes donated by area businesses, and fun for every runner.
Tickets will be available exclusively at Teton Therapy's Lander and Riverton clinic front desks, starting March 15th. Ticket prices will range from $20 per child/Senior runner, to $25 per adult runner, and $80 for a group of 4 runners.
To get ready for the race, Teton Therapy is inviting you to participate in the Couch 2 5k training program. This six-week plan is modeled on the popular exercise routine devised over 25 years ago to prepare those in a more sedentary lifestyle for the joy of running a 5k with relative ease. (As with any exercise program, check with your doctor before starting.)
Follow along with the Couch 2 5k Training Program starting Sunday, March 5th, and you'll be ready to make the OT5k your race on April 15th.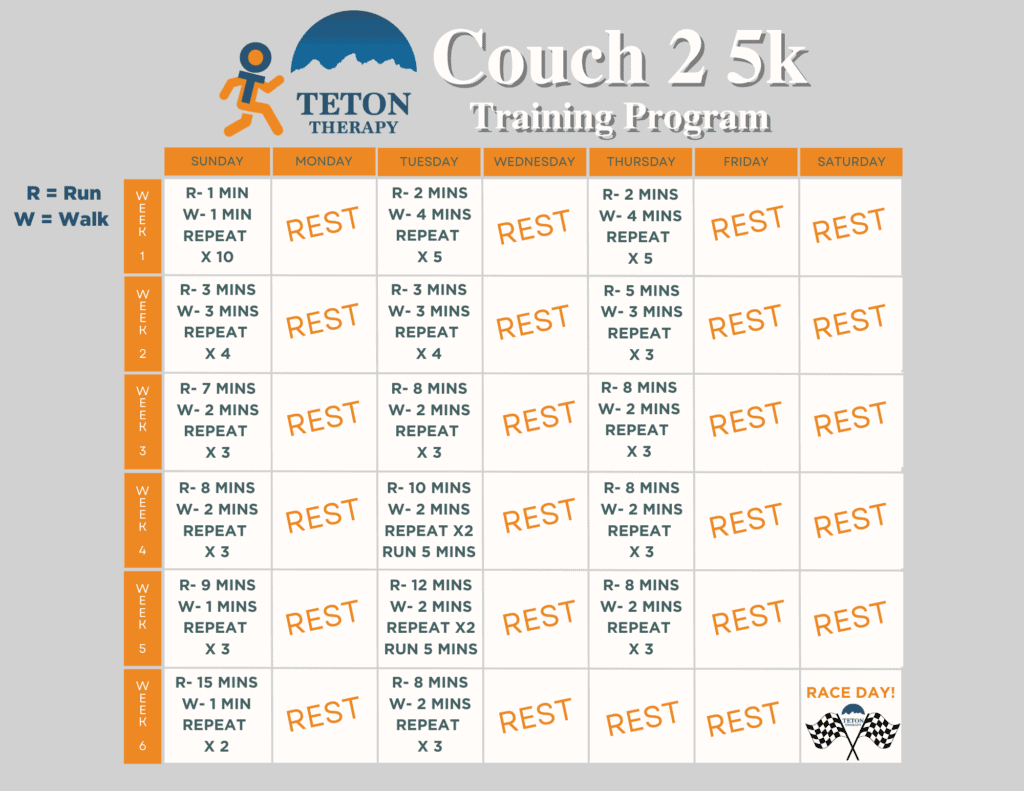 For questions, call Teton Therapy at 307-857-7074, or email [email protected].
Teton Therapy's second annual OT5k. You can do it!