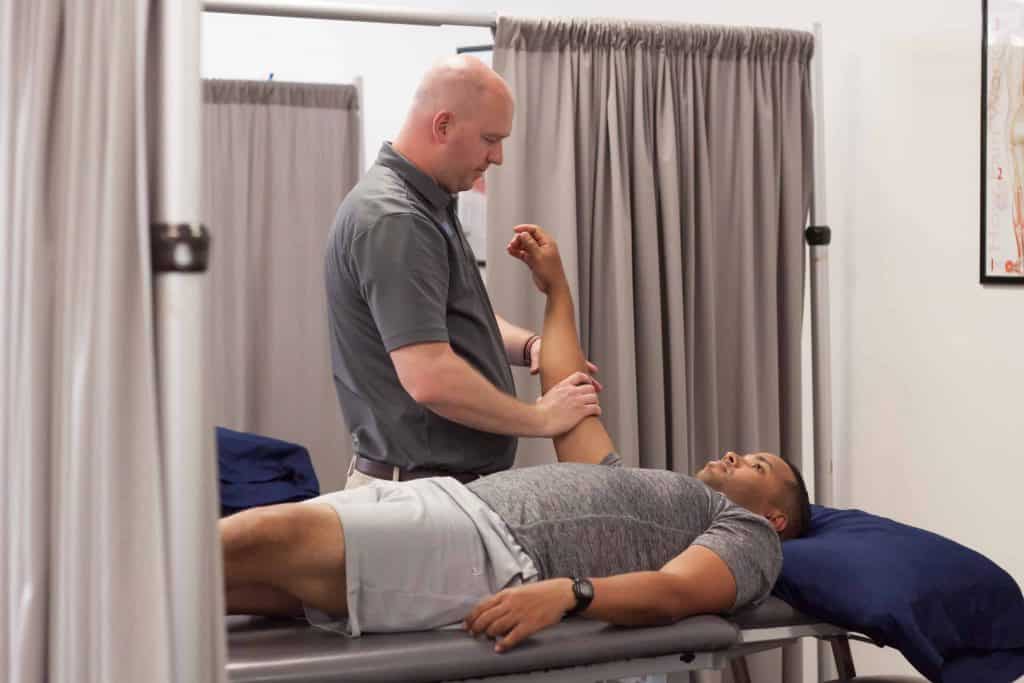 The shoulder is possibly the coolest part of the body! Involved in many of the ways we interact with our environment, the shoulder must be extremely mobile while still maintaining enough strength to complete activities. Its unique anatomy makes it a frequent source of pain as well as a common culprit for dysfunction in other parts of the body. These factors make treatment of the shoulder rewarding for both the patient and therapist.
Unlike the leg, the joints of the upper body tend to have small contact areas. Meaning the area of contact between bones is very small compared to the size of the bones. In the leg, the contact area is very big, which makes the joint much more stable but less mobile. The shoulder joint, also known as the glenohumeral joint, looks like a golf ball sitting on a tee. This is where the humerus meets the shoulder. Due to the lack of bone-to-bone contact to keep it stable, the shoulder maintains its stability using nine muscles working together. Simple motions like reaching overhead require the coordination of all these muscles plus an additional six that control the shoulder blade (scapula).

Since these movements require effective coordination, shoulder pain can be difficult to manage without professional assistance. Muscles can lose strength and other tissues can become tight, therefore disrupting the normal mechanics of the shoulder. Dysfunction in the shoulder may result in pain, decreased range of motion, weakness, and associated functional limitations. In cases where a fall or similar trauma is involved, other important structures can be disrupted.
Here are 3 gentle shoulder stretches designed to help relieve pain and expand the range of motion.
Managing shoulder pain or dysfunction with a trained rehabilitation specialist can shorten the period of time until normal function returns. At Teton Therapy, many of our therapists have taken advanced shoulder courses to assist in treating the full spectrum of shoulder conditions. From simple shoulder pain to complex shoulder reconstructions. The most important factor in getting over shoulder conditions is starting therapy early!
FREE CONSULTATIONS:
A Free Consultation consists of a 30-minute one-on-one appointment with the Physical Therapist of your choice. The PT will talk with you about the history of your problem and will take measurements to test how well you are moving and to test your strength.
After a thorough exam, they will give you a written copy of:
1. The cause of your pain or problem.
2. A plan for successful treatment.
Call any of our Teton Therapy clinics to set up a FREE 30-minute consultation today!