Our splints are custom made, not something you just buy off the shelf in hopes of working. Each splint is customized to specific patients, ensuring our patient success!
Splinting is used to rest or protect a painful joint, give stability to increase pain-free functional use, or to increase pain-free motion in a stiff joint. If you are suffering from hand, wrist, or elbow pain, give Teton Therapy a call! We want to ensure your success and the ability to return to doing the things you love to do.
Did you know that occupational therapists are trained to fabricate custom splints/orthotics for patients with hand, wrist, and elbow issues?
Custom splints/orthotics are almost always superior to over-the-counter splinting for several reasons, including custom patient fit, continued orthotic care, modification of the splint/orthotic, and adaptability of materials used to ensure compliance with the orthotic. There are several classifications of splints, including immobilization splints, mobilization splints, and restriction splints.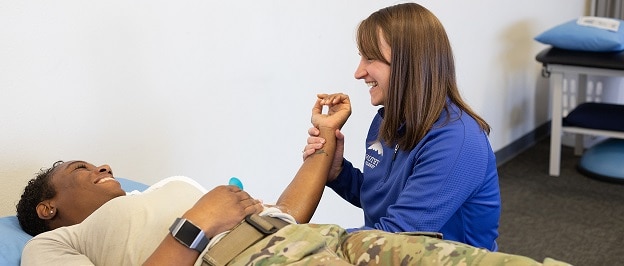 Common reasons to use a splint:
∙ Increase functional use of arm or hand
∙ Increase or maintain range of motion
∙ Protect the healing of fractures, tendons, or nerves
∙ Relieve pain
∙ Prevent or correct deformities
👀 SEE THE PROCESS YOURSELF! 👀
As seen in the video below, our splints are unique and made from a thermoplastic material that is heated in warm water and molded to custom fit each individual.
Type of Splints We Make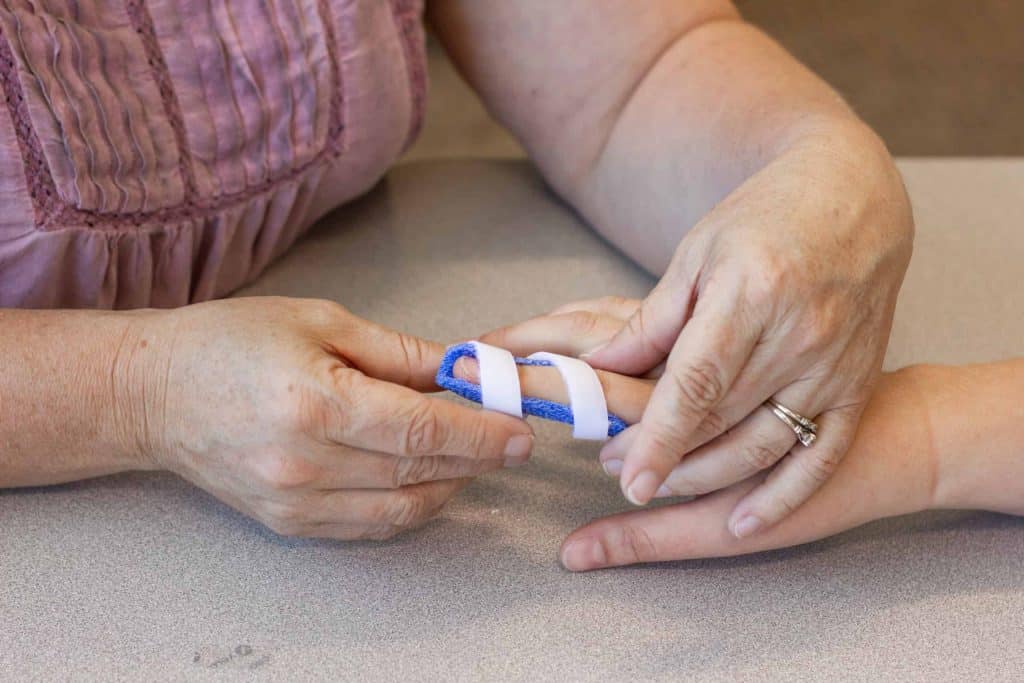 Immobilization splints are used for many reasons, including symptom relief, protecting, and positioning the limb for edema or after fracture or surgery, maintaining tissue length, and helping to aid maximal functional use of the affected limb. Common immobilization splints include wrist cock-ups (carpal tunnel syndrome), thumb spica splints (deQuervains, CMC joint arthritis), and finger gutter splints for fractures or tendon pathology.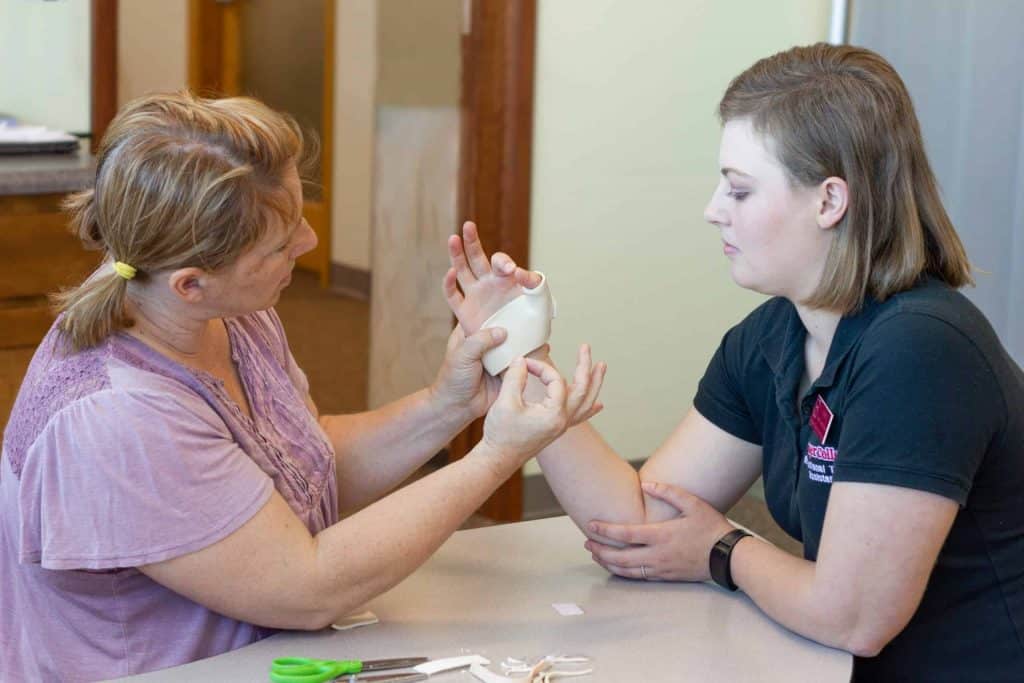 Mobilization splints are fabricated to assist with elongating soft tissue contracture and adhesions, increase passive joint ROM, realign/maintain joints and ligaments, and substitute for weak or absent motion. Static progressive, serial static, and dynamic splints are all examples of mobilization splints, and can be used for a wide range of conditions from increased tone post CVA/TBI to joint arthroplasty to nerve injuries. Often, these splints involve outriggers and use of rubber bands and pulley systems to assist with mobilization.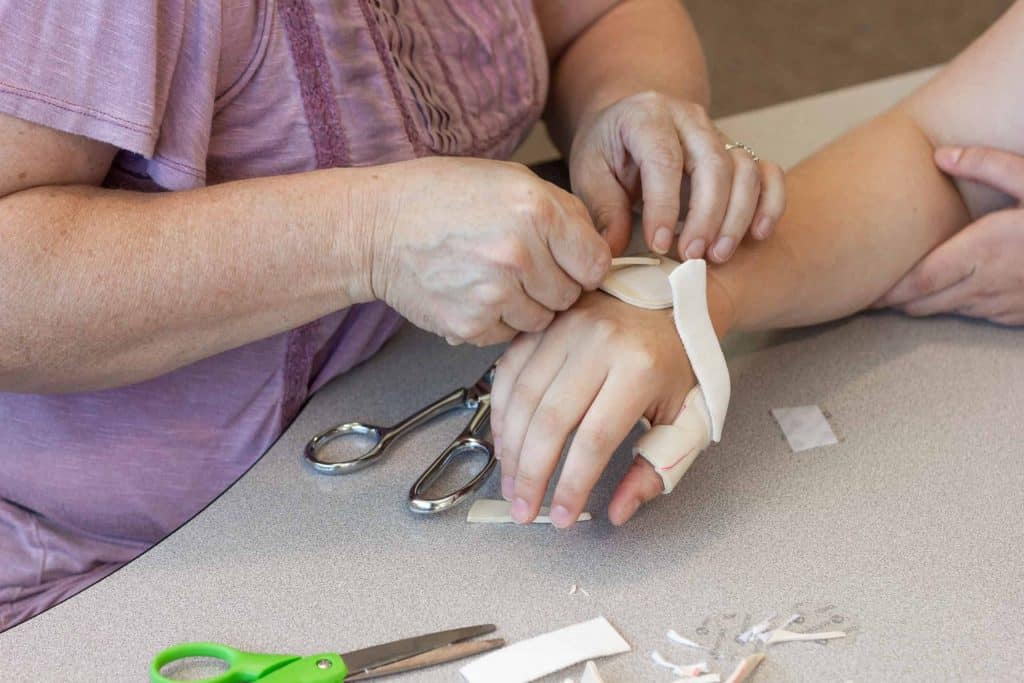 Restriction splints are primarily used to limit joint mobility, often after nerve injury or repair, tendon injury or repair, bone/ligament injury or repair. Additionally, restriction splints help provide joint stability and alignment, as well as assisting with functional use of the hand. Common examples of these are the Oval 8 splints worn to prevent Boutineers or Swan neck deformity, Mallet Finger Splints, or elbow hinge orthotics to limit extension but allow full elbow flexion.
---
Custom splints are most often covered by the patient's insurance with a doctor's order, and often can be fabricated the same day as ordered. Good communication with the therapist regarding your desires and requirements of splinting will assist this process greatly and ensure excellent patient outcomes!
---
Additional Conditions We Treat: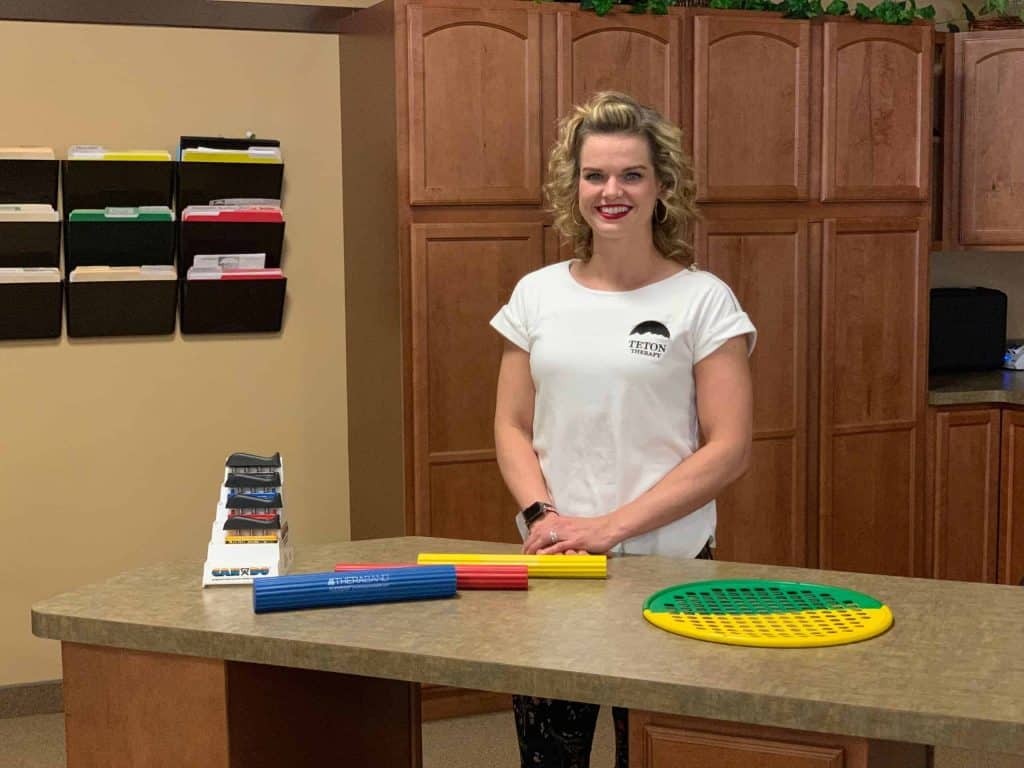 ∙ Shoulder pain
∙ Rotator cuff injuries and tears
∙ Post-surgery rehabilitation (arthroscopy, rotator cuff repair, total shoulder replacement, and more)
∙ Frozen shoulder (adhesive capsulitis)
∙ Shoulder tendonitis
∙ Shoulder bursitis
∙ Shoulder impingement
∙ Shoulder fracture recovery
∙ Dislocation rehabilitation
∙ Labrum tears
∙ Loss of range of motion
∙ AND MUCH MORE!
Our experienced, knowledgeable, and caring staff all take pride in GETTING OUR PATIENTS RESULTS! We have clinics open currently in Riverton, Lander, and Cheyenne. Get back to living with Teton Therapy. We accept all major insurances, medicare, workers' compensation, and walk-in visits. FREE consultations are offered through appointment booking at all four locations!